When you are in the process of putting together ideas for your ideal bathroom in your Oxford home, you tend to agonise over which tiles to use, the design of shower head you want most and how to configure it all for maximum functionality. One aspect of bathroom design that we sometimes overlook is how to accessorise bathrooms. Even the most luxuriant bathroom suites in Oxford can struggle to highlight their best features if poorly accessorised. Below we will outline the four steps you can take to make the most of your bathroom.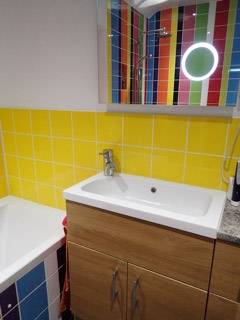 Use towels wisely
Towels are essential to bathrooms, but using colours that complement the existing design will help bring add to the room's vibrancy – having a couple of towelling sets and bath mats to switch the shade now and then creates versatility.
Mood lighting
Bathrooms are an area for unwinding, so what better way to create a relaxing ambience than with dimmer switches to find the perfect mood. LED lights installed on mirrors or in the flooring also help shape a calm atmosphere.
Mirrors
No bathroom is complete without a mirror, but the mirrors on offer now and more than just a functional device for preening yourself. Modern smart mirrors can provide music streaming, radios, USB charging and LED lighting, giving you a wealth of accessory options to customise your bathroom.
Storage
Narrow caddies and storage units are practical yet allow you to maintain a tody and decorative bathroom. You can use them to keep toilet rolls and other cosmetics out of sight but within easy reach.
If you would like to lean on an experienced bathroom and plumbing team that is thoroughly trained and highly skilled, contact Brian Watts Partners. We deliver all aspects of bathroom design for customers in Oxford and beyond.